Five Common Questions About New Platform Integration
More than ever, the breadth of technology available to enterprise organizations to solve a diverse array of problems can be overwhelming. Gone are the days of a small handful of ERPs handling 99% of an organization's operations. Increased development cycles, the rise of cloud-based solutions, and the ability to integrate tools seamlessly across dozens of connection points create a far more flexible ecosystem than was available ten or even just five years ago.
However, that flexibility creates a range of other problems for which many companies are not prepared. Even a small integration can lead to unexpected challenges. Poor communication between departments, the constant shuffle of new pilots in IT, and the ability to accurately synchronize data between a growing number of applications are all issues that need to be addressed.
To do this, many organizations are leveraging an enterprise integration approach that centralizes the process, moving away from application integration that often fails to scale. Currently, the majority of integration starts as point-to-point – requiring code development between two applications that manage the information shared between them. In such a system, Forrester Research estimates that 35% of development time is spent just on these interfaces.
With the right integration platform acting as middleware between all of your applications, you can ensure greater scalability, a more process-driven approach to integration flows, the ability to keep your data consistent across all platforms and built-in tools to manage future deployments.
To better understand how to approach such a platform integration and the benefits of doing so, let's take a closer look at five questions you should ask when preparing for one.
What Inefficiencies Does Your Current System Suffer?
Before investing in the development of a centralized integration platform for your organization, it's important to identify where efficiencies currently exist and how best to address them. An inefficient system can have an impact through:
Employee Inefficiency – Employees spend an average of 1.8 hours per day looking for the information they need to perform their jobs. This time is a combination of poor documentation, overly complicated systems, and disparate data sets that don't sync properly. The risk of errors is high and it can severely impact productivity, and in turn, employee engagement.
A Lack of Transparency – When you maintain multiple overlapping databases and no means by which to communicate changes between them, your data becomes quickly opaque to both daily users and senior stakeholders.
Excess IT Time – Gartner estimates that more than 90% of IT time is spent on maintenance, keeping the connections between diverse systems active and addressing issues as they occur.
What Gains Do You Expect to Make from Developing an Integration Platform for Your Organization?
Before making a change, clearly map out what you expect to gain from that change so you can measure against expectations after the project is complete. This can be impacted by the relative cost of software already in place, customization costs, and the additional training needed for employees if any workflows or processes change.
As you evaluate the gains you hope to make and weigh them against immediate costs, consider also the long term scalability of your integration, the sophistication level of the system you develop to manage interconnected processes and identify dependencies, and the systems by which you will connect everything.
Have You Clearly Mapped Your Goals for Execution of an Integration Plan?
To ensure everyone has a shared focus and clarity on what you're hoping to accomplish, establish specific, measurable, attainable, relevant and timely (SMART) goals that outline:
Project Scope, Schedule, and Cost 
Compare the current project costs of your point-to-point integration plans with the long term benefits gained from developing a more comprehensive system that can centrally manage communications for your organization.
Meeting the Needs of the Customer
Today's consumer is more technically savvy than ever before. In the last decade, the marketplace has reached a level of digital maturity that requires companies to cater to customer expectations. Gone are the days of creating processes and expecting customers to figure them out.
They want access to information from all potential sources at any given time. While the use of CRMs, ERPs, SRPs, and other data management platforms are not new in enterprise organizations, integration of those systems is. To meet increasing customer needs, they need to be able to talk to one another seamlessly.
Who Owns the Process and Who Are the Key Stakeholders?
One of the biggest challenges large organizations face during platform integration is a lack of communication. Silos can create vacuums in which decisions are made without key input from stakeholders who will be affected by the implementation. Lack of communication in these situations can lead to:
Unexpected integration challenges and software issues
Lower adoption rates among users who are not ready for change
Not enough champions to push the integration process over the finish line
Perpetual configuration and customization needs after integration is completed
Inaccurate understanding of business processes that leads to an effective platform integration
To successfully champion platform integration as part of your digital transformation efforts, you need a leader who is ready to take charge of the situation – gathering necessary documentation and resources and guiding decision making. When you have a central strategy that organizes your digital transformation efforts around platform integration, you'll benefit from greater visibility of your data, easier collaboration among employees, and improved customer experience.
Do You Have a Resource You Can Leverage for Support If Needed?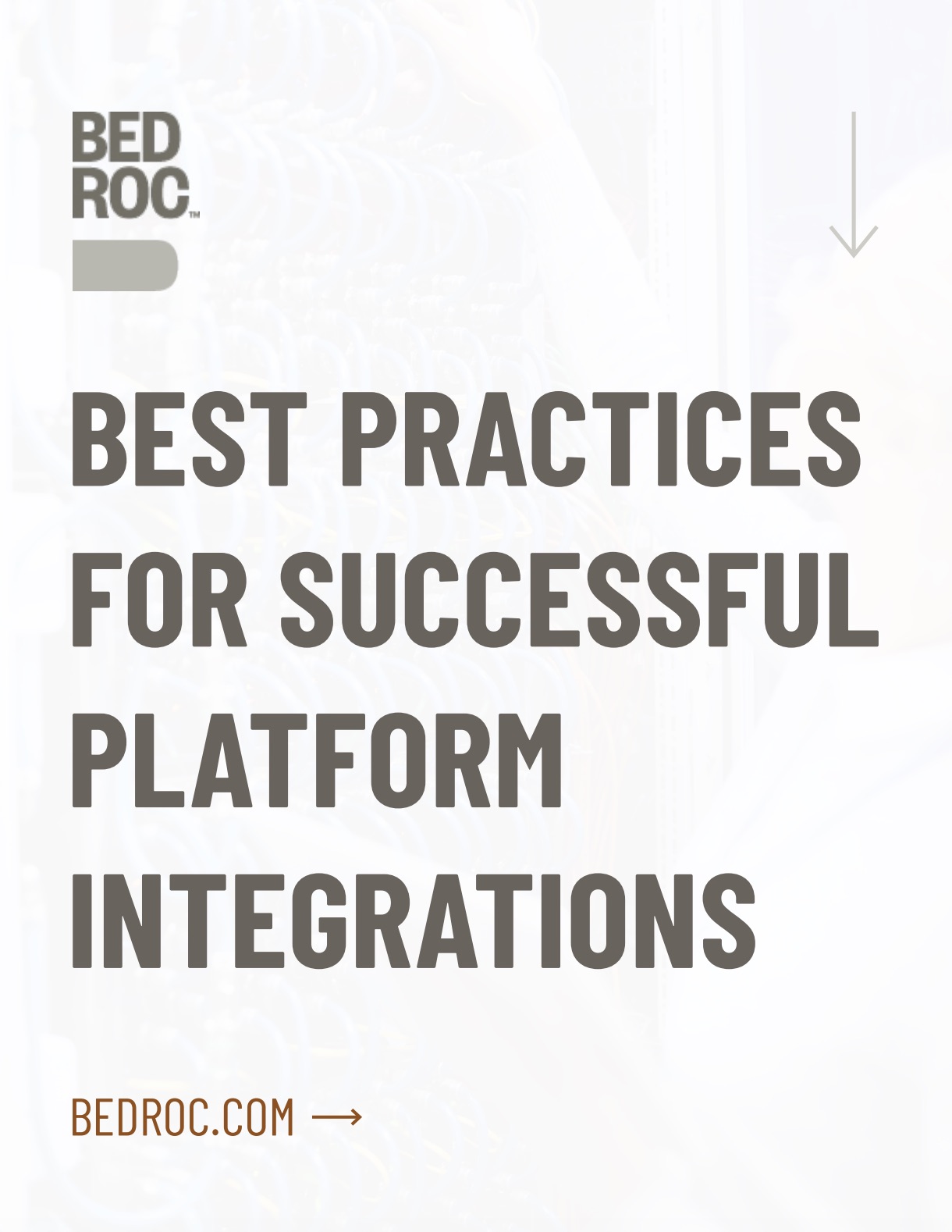 Regardless of the comfort level and expertise of your technology team in implementing, managing and servicing existing applications, only a select few will have the hands-on experience needed to address a more complex platform integration. For this reason, it's important to have an expert on call who can support your efforts.
A depth of experience in handling large integration projects specific to your chosen platforms can help identify potential issues, ensure scalability over time, and prepare your team for whatever comes next.
Bedroc has been working with companies for years to do just this – defining the problem and building a custom solution that will scale with your growth for decades to come.
Learn more about the best practices for successful platform integration and how we can help in our eBook: