Cloud computing has changed the face of technology across many industries over the last five years. Unfortunately, healthcare has been playing catch-up with these recent innovations. This is largely due to the nature of information processed and—personal health records being only one portion of the most vulnerable information involved.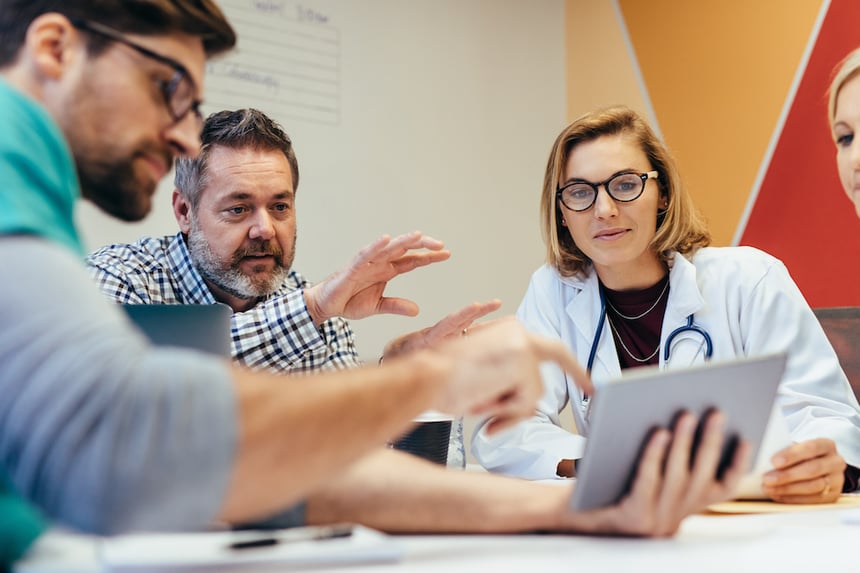 However, necessity has forced the hand of the healthcare industry over the last year, calling healthcare communications to seek alternative methods in a post-pandemic world. Cloud computing and its myriad of uses—including iPatient portals, personal healthcare management, and monitoring devices for in-home patient care—have become the safest and most reassuring for both patients and their healthcare professionals.
How can we expect the rapid adoption of cloud computing to influence the future of healthcare? Let's take a look.
Hindsight is 2020
An emergency situation is not the ideal time to perform a technological overhaul of your company. Unfortunately, many healthcare networks were left with no other. Cloud computing in the healthcare system requires sophisticated technology, collaboration with outsourced IT professionals, personnel training, and integrated methods to ensure end-user success.
Now that we've lived through it, let's anticipate unprecedented virtualization overhauls by having the technology and standard procedures already in place. Cloud computing as an alternative to normal business operations should undoubtedly be covered in your disaster preparedness plan. In the future, look forward to healthcare networks further tweaking their new cloud computing methods to integrate them into their standard business operations, rather than a Hail Mary plan drawn in the sand.
Safe and Sound
With cloud computing becoming the norm rather than the exception in a post-pandemic world, we can also expect security standards, particularly regulatory requirements, to follow suit. With more healthcare services migrating to the virtual realm, more security risks are being created. In order to mitigate these risks, security controls must promptly be put in place. This will require more third-party auditing, dedicated HIPAA SMEs present during the adoption and collaboration with cloud computing technology, and regular internal personnel cybersecurity education. 
As cloud computing becomes more integrated into standard healthcare, blockchain technology will play an increased role in the cybersecurity of healthcare systems. Blockchain technology will become a key player in the virtualization of healthcare, as it has the power to create a large network (interconnected "blocks") of shared sensitive information. It also enforces security measures that make it impossible for even root administrators to view information from another "block."
With the virtualization of healthcare comes more immediate, personalized patient care. A silver lining! However, this integration of cloud computing requires that healthcare networks step out of their comfort zones in the name of providing quality patient care across the virtual landscape.
Rather than a patient relying on one office visit, one provider, and one set of testing data, several providers across a larger virtual network will collaborate to create a successful care plan for one patient. This will require that patient data is shared across wide networks so that providers may accurately diagnose and treat patients.
Born of innovation and integrated out of necessity, cloud computing has already proven to be an essential evolution of healthcare. Although it brings a host of cybersecurity concerns to the forefront of healthcare data sharing, this non-traditional approach to personalized and safe care seems to be the future of our post-pandemic routine.
As holistic IT professionals, Bedroc is here to make cloud computing easily digestible for healthcare companies. Ready to schedule a consultation? Contact us today!